Article published on 21 January 2010
Canadian Gaming Conference Planned for Next Month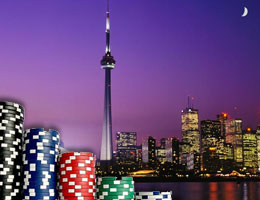 The Maple Gambling image gallery control requires that you have the Flash Player plugin installed and JavaScript enabled in your browser.
The fifth Annual Legal and Business Guide to Gaming in Canada will be held next month in Toronto and is expected to attract a good number of participants.
The gaming conference is held each year to discuss gaming and gambling laws in Canada, and to pick up on developing trends.
This year, emphasis will be placed on the every changing developments in the Canadian industry and participants will hear a number of talks on hot topics that are vital in today's gaming world.
The gaming conference will be held at the Metropolitan Hotel in Toronto, Canada on the dates February 4 and 5, 2010. Chairing the conference will be Michael Lipton, QC.
Some of the topics to be discussed include:
Obstacles and trends in the sports betting industry.
The risks and opportunities involved in the operation of online gambling sites, with a special look at grey regulations and current legislation.
Opportunities available in Aboriginal gaming environments.
The latest regulatory developments pertaining to the land based gaming industry.
Treaty rights.
Minimizing exposure to problem gambling lawsuits.
The need for such a gaming conference is stronger than ever, due to the influx of online casino sites being launched to cater for Canadian players, and new laws being passed all the time to govern the changing landscape.
A unique workshop, entitled "The Fundamentals of Gaming Law in Canada" will be held by the Canadian Institute, which founded the gaming conference five years ago.