Article published on 29 July 2010
32Red Shows Excellent Revenue Growth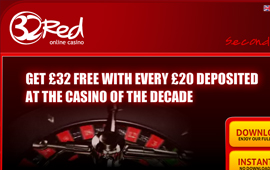 The Maple Gambling image gallery control requires that you have the Flash Player plugin installed and JavaScript enabled in your browser.
The Chief Executive Officer of 32Red, Ed Ware, commented on the statistics released by the Gibraltar based group in its financial report for the first half of 2010.
The group showed a 33% increase in total revenues up to £7.8 million, with online casino operations performing the best out of all the other sectors.
The 29% rise in year on year revenues by 32Red Casino did not include revenues contributed by the newly purchased NedPlay and Golden Lounge.
The fruits of these purchases are expected to be felt in the full year report.
"Our strong first half performance is particularly pleasing given the challenging economic conditions in the United Kingdom, which remains our core marketplace," said the Ware.
"We believe that the 32Red brand and its core values continue to provide us with the tools to penetrate the online and mobile casino market successfully," he added.
Poker earnings saw a 14% year on year drop to £400,000, according to 32Red, while bingo also saw a slight decline of 3% to £100,000.
"The group has further strengthened its balance sheet and, having repaid all outstanding bank debt, will increase marketing spend during the second half of the year," said Ware.
"While the focus remains in the UK, the board continues to monitor regulatory developments in Europe and the rest of the world with a view to expanding into new markets should attractive opportunities arise."