Article published on 26 August 2010
Mega Moolah Isis Pays Out Big at Ladbrokes Casino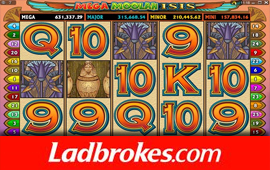 The Maple Gambling image gallery control requires that you have the Flash Player plugin installed and JavaScript enabled in your browser.
Some of us prefer to spend Friday 13th avoiding situations where bad luck could rear its ugly head.
Some, however, prefer to frequent places where luck plays an important factor - just to prove that superstition is nonsense.
This was the case with an online casino player from London who decided to visit Ladbrokes Casino on Friday 13th in a bid to prove that he had nothing to be afraid of.
The player's bet paid off because, after playing the exciting Mega Moolah Isis progressive slot game, he won an incredible £75K!
The player had previously won free tokens to play Mega Moolah Isis in a one day blitz promotion run by Ladbrokes Casino, where players were given the opportunity to win 10, 25 or 50 free chips.
"A £75,000 win on Friday the 13th is amazing," said the Head of Marketing at Ladbrokes Casino, Charlie Goodenough. "It just goes to show that this day can be lucky for some!"
"We have had so many big winners in the last few months that 2010 is starting to look very good for our customers," said Goodenough. "So much so that it would not surprise me if someone scooped the £4 million on Mega Moolah soon."
Goodenough was referring to the Mega Moolah progressive jackpot with a prize that has passed the £4 million milestone.
As such, the game is attracting online gamblers at an incredible pace, which means, in turn, that the jackpot amount will start to rise even faster.
The latest Mega Moolah Isis win was the second in as many months, after another Londoner, Mr. S., won £88,341 on the same game in July.
Ladbrokes Casino is powered by Microgaming software group and provides players with hundreds of exciting titles to choose from.