Article published on 27 August 2010
NFL Preseason Betting Preview And A Free NFL Pick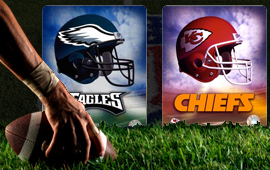 The Maple Gambling image gallery control requires that you have the Flash Player plugin installed and JavaScript enabled in your browser.
Sports betting fans in Canada are relishing the fact that the NFL is back, even if it is only Preseason games as of now. Tonight will see four more games, as the Exhibition stage is now in Week 3, typically the one game that sees a lot of time for starters.
The Falcons play the Dolphins (the betting spread for this game is currently PK or pick 'em, with neither team favoured over the other by the bookmakers), the Chargers travel to the Super Bowl champs, the Saints, as -3 point underdogs, and the Redskins are 5 point underdogs in the NFL line for their game at the New York Jets. The fourth game tonight is the one for which Mycapper.com has provided a free NFL pick, and it sees the Kansas City Chiefs host the Philadelphia Eagles.
Pick Selection: Bet on the CHIEFS to cover the spread
Analysis: "Neither of these teams have set the preseason alight, which isn't surprising considering the past records in exhibition games, but there is some reason to believe that Kansas City can come through in this spot to record their first win of the season. They have played pretty decent football in their first two games, both of which were on the road, and they face a lacklustre opponent in the Eagles who are typically unable to cover in these spots.
Our database suggests that the Chiefs should be favoured here by 2.5 points. Instead they're underdogs, if only by 1.5 points, so we're definitely getting some line value. It's only worth a small wager but take KANSAS CITY to cover tonight."
Our other tips for those of you who want to bet on football this weekend is to take the Jets, the Dolphins, and the Chargers, as we look for the AFC to shine in all four of these contests. Enjoy the NFL games live on TV and remember to bet on them online.