Article published on 1 September 2010
Trainer Sid Attard Makes Hat Trick at Woodbine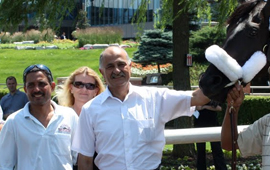 The Maple Gambling image gallery control requires that you have the Flash Player plugin installed and JavaScript enabled in your browser.
Sid Attard will not forget Sunday's
Play the King Stakes
(Gr 2) in a hurry, because his charge
Smokey Fire
won the 7 furlong race at Woodbine Racecourse in Toronto, making it three in a row for the top Canadian trainer.
In 2008 Attard won the Play the King Stakes for three-year-olds and older with Just Rushing with James McAleney up, as well as in 2009 with Jungle Wave with Todd Kabel up. This year's winner, Smokey Fire, had Jono Jones aboard.
'I always liked this horse,' said Attard after the race. 'Last year, in his first races all he wanted to do was go boom, boom, boom. Now, he's relaxing.' A 5-year-old gelding, Smokey Fire fended off stablemate Jungle Wave for the victory.
But it has not always been an easy road for Smokey Fire. He made his debut fairly late for his age, when in May last year he won his first two starts, leading from start to finish in both. At the end of the year, he won the Kennedy Road.
From there he chalked up a victory in the Bold Venture Stakes over 6 1/2 furlongs, beating favourites Hollywood Hit and Fatal Bullet. However, the gelding hit a kink in the road in his next race, the Alfred G. Vanderbilt Handicap (Gr 1).
A dirt race, it was apparent that Smokey Fire hated the unfamiliar surface, finishing last out of the seven-horse field. But not giving up on him, Attard gave him a solid workout to prep him for Sunday's Play the King Stakes on Woodbine turf.
'He didn't handle the dirt at all,' explained Attard. 'I worked him last week, and he came back and worked in a minute. I think we'll give him a shot at the Woodbine Mile.' The $1 million Woodbine Mile is set for September 19 at Woodbine.