Article published on 10 October 2010
Bodog Reaches for Stars through New Sponsorship Deal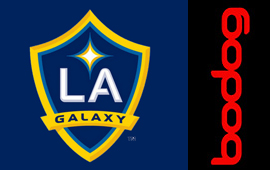 The Maple Gambling image gallery control requires that you have the Flash Player plugin installed and JavaScript enabled in your browser.
Bodog, the international gambling group, has signed a lucrative deal with one of the top performing soccer clubs in the United States, as the popularity of this sport continues to grow in the country.
Bodog's generous deal with LA Galaxy will allow the group to market its product throughout the team's home stadium - including on the scoreboard, and on TV's in the stadium.
In addition, Bodog merchandise will also be sold in the stadium.
LA Galaxy, home to possibly the most high profiled English soccer player in the world, David Beckham, is considered one of the best teams in the United States.
Soccer has long lagged behind in popularity, compared to other all-American sports such as baseball and basketball, but the game is slowly gathering more and more supporters each year.
This could have something to do with Team USA's great performance in the World Cup tournament in South Africa this year.
Speaking about the new deal, the Director of PR at Bodog, Ed Pownwall said: "Both the LA Galaxy and Bodog brands are recognized around the globe, making this partnership mutually beneficial, and a perfect synergy between brands across the US and beyond."
"The fantasy sports industry has grown exponentially in recent years and is showing no signs of stopping," he added, "and soccer, with its many dimensions, offers itself perfectly to fantasy sports games."
This deal was the latest signed by Bodog. The group already has a deal with the Fulham Football Club in the UK.