Article published on 22 November 2010
Online Gambling Site on the Cards for Loto Quebec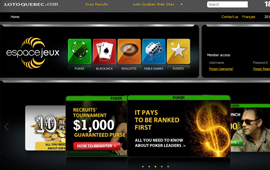 The Maple Gambling image gallery control requires that you have the Flash Player plugin installed and JavaScript enabled in your browser.
Top gambling and lottery operator, Loto Quebec, announced just before the weekend that Canadians can look forward to the launch of a new online gambling site next month.
Loto Quebec said that it would be launching espacejeux.com on December 1st.
The new site will feature eight different online poker games - including Texas Hold 'em - as well as blackjack and roulette.
Loto Quebec sees the launch of the site as a very real way of raising over $50 million in revenue for the province each and every year - an opportunity that it simply cannot turn down.
"We have a responsibility to do this and, by the way, if that makes it so the state will recoup some of the money that is available out there, the more the merrier," said the Chief Executive Officer of Loto Quebec, Alain Cousineau.
There will be certain restrictions placed on the new site, including the fact that it will be open only to Quebec residents who are eighteen years of age or older.
In addition, players will not be entitled to gamble more than $10,000 a week.
Nevertheless, gambling opponents have expressed their concern about the impending launch who say that it will create more gamblers in the long run.
Loto Quebec predicts that up to 20,000 Quebecers could be gambling on the new site by Christmas.
The lottery group will be teaming with BC Lottery Corp to create a joint platform for online poker games.