Article published on 10 February 2011
Online Casino.com Running Valentines Promotion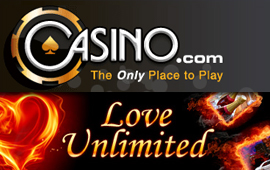 The Maple Gambling image gallery control requires that you have the Flash Player plugin installed and JavaScript enabled in your browser.
Casino.com is getting ready to pamper its players in style this coming Valentine's Day.
Through its Love Unlimited promotion, the site is offering its players unlimited reloads on Valentine's Day - February 14th - for the entire day!
That gives players 24 hours to enjoy all the games they love at Casino.com, simply by reloading their account.
The promotion period begins at 00:01 on Monday February 14th and ends on the same day at 23:59.
The reload will reward players with a super 25% bonus up to $100.
However, the fun doesn't stop there.
Casino.com is giving players the opportunity to win a luxurious limo ride and and intimate dinner for two at their favourite restaurant as a top prize.
In addition, 15 runners up will enjoy chocolate hampers, champagne, flowers and much more.
To enter the Love Unlimited promotion, players need to log into their Casino.com account and make a bet while playing their favourite game.
All winners in this promotion will be announced on Tuesday, February 15th.
The promotion is open to players who are at bronze/silver/gold loyalty level.
A minimum single deposit of $20 needs to be made during the promotion period in order to take part, and opt in must occur before February 13th.
A number of games don't take part in the promotion, including roulette, blackjack, certain video poker variants and baccarat.