Article published on 16 February 2011
Friday Canadian Lotto Max Jackpot is CAN$43 million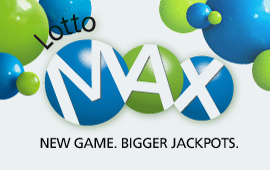 The Maple Gambling image gallery control requires that you have the Flash Player plugin installed and JavaScript enabled in your browser.
Despite the high number of Canadian lottery players, the country's lotto games have an uncanny habit of reaching great heights, Friday's
Canada Lotto Max
jackpot of $43 million being a prime example.
In fact, there's a good chance that two instant multi-millionaires will be created this week, because over and above Friday's Canada Lotto Max jackpot, lotto fans will also vie for tonight's $30 million
Canada Lotto 6/49
jackpot.
Enjoyed by hundreds of thousands of Canadians each week, the nation's lottery draws are famous for their huge jackpots, and there is little doubt that each of this week's lotto jackpots will greatly boost lottery ticket sales.
Friday's enormous Canada Lotto Max jackpot will especially have lotto lovers champing at the bit, because it is getting very close to the $50 million mark, which means the $1 million Maxmillions prizes could soon kick in.
Unlike the jackpot of Canada Lotto 6/49, which keeps on increasing the longer it remains unwon, Canada Lotto Max has a ceiling of $50 million for its main jackpot, and then anything over that goes towards Maxmillions prizes.
This means that players have more than just one chance of become an instant millionaire, and why an increasing number of Canadians are playing Lotto Max, especially ahead of draws where the jackpot exceeds $50 million.
With Canada Lotto Max, no less than 48 per cent of all sales go into the overall prize fund. In addition, the Lotto Max jackpot is never smaller than $10 million, and is carried over every week that the jackpot remains unwon.