Article published on 21 February 2011
$50 m Lotto Max Win to be Disputed in Court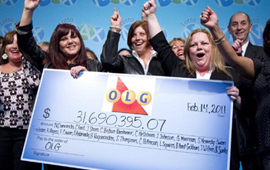 The Maple Gambling image gallery control requires that you have the Flash Player plugin installed and JavaScript enabled in your browser.
The case of the New Year's Eve Lotto Max win, which saw nineteen Bell Canada employees share in the $50 million prize, will go to court.
Nine people, colleagues of the original 19, claim that they should have been included in the pool and were not been informed properly that they had been excluded from the partnership.
The nine are now suing the 19 winners, who have, in the meantime, been paid out part of their winnings.
In an out of court agreement between the two parties, it was was decided that the money would be divided into 30 equal shares, and the 19 would be paid out $1,667,915.53 each.
The remaining $18,347,070.83 would be put into trust and left for the sides to fight over in court.
If the court finds that the nine are eligible for the win, they will get their share of the money; however, if not, the 19 will get the rest of their cash.
A statement made by the nine claimants said: "The rules of the partnership provided that each of the partners would contribute an agreed upon weekly amount towards purchase of lottery tickets, and that partners who failed to contribute on a specific occasion or occasions due to a temporary absence for any reason, would be permitted and excepted to make their required distribution at a later time."
The nine said that they were never given clear notice that they were not part of the partnership any more.
They are suing for their share in the Lotto Max prize, as well as $4.7 million in punitive damages and $2.7 million for breach of contract.
A lawyer representing the 19 said that there was no truth to these 'bald allegations'.