Article published on 26 February 2011
Sports Interaction Launches Sixteen New Casino Games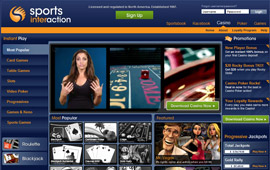 The Maple Gambling image gallery control requires that you have the Flash Player plugin installed and JavaScript enabled in your browser.
Online gambling site, Sports Interaction, announced that it has introduced no less than sixteen new games recently.
The games are unique and entertaining, bringing the last word in casino gaming technology to a highly popular website.
A spokesperson for Sports Interaction, Kevin Manning, commented on how well the new games had been received by the site.
"Our initial customer engagement has been phenomenal," he said.
"We've had a lot of success with our gaming product because it fits so well with what we do. Sports Interaction's core principle is that gambling and gaming are about fun first and foremost, but the level of technology in these new games has taken even us by surprise."
The sixteen new slot games are all interactive 3D gems, with titles such as Slotfather, Mr. Vegas, Gladiator and Rockstar.
The realism of these games makes players feel as if they've been whisked away to a Vegas-style casino, while graphics, animation and sound are second to none.
"They used to say about the Superman movies that you'll believe a man can fly," said Manning. "The technology of these games is so good that you really begin to believe that you're back in ancient Rome when you're playing Gladiator, or that you're rocking the Meadowlands when you're playing Rockstar."
He said that the new games added a new dimension in online gambling entertainment.
Sports Interaction offers new players an instant 100% bonus on their first casino deposit.