Article published on 19 April 2011
Lotto Max Lottery Hits the Jackpot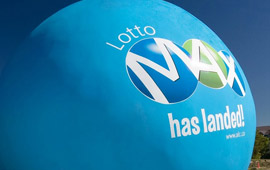 The Maple Gambling image gallery control requires that you have the Flash Player plugin installed and JavaScript enabled in your browser.
The $50 million jackpot on the Lotto Max lottery was hit after Friday night's draw.
According to results posted on the Loto-Quebec website, three winning tickets will share the top prize.
Each winner will be able to take home a staggering $16,666,666.
The winning numbers were: 3, 12, 14, 15, 25, 32 and 49, while the bonus number was 37.
The odds of hitting the seven-digit jackpot are 28,633,528:1.
One of the winning tickets was bought in Quebec, while the other two were sold in Ontario, according to Loto Quebec.
A number of players also became instant millionaires through the Max Millions also drawn on the same night.
Edmonton was particularly lucky, revealing at least three people in the city becoming millionaires following the Lotto Max draw.
Three other $1 million tickets were purchased by Albertans in other parts of this lucky province.
Edmonton is no stranger to big lottery wins. Last year, Cameron Blaire of Beaumont took home the eye-watering sum of $41.7 million after winning the Lotto Max jackpot, while Lawayne Musselwhite won $22 million in November on the same lottery.
All in all, $18 million Max Millions prizes were won.
The next draw will take place on Friday April 22nd, and will offer a jackpot worth $32 million. It will include the 22 Max Millions that were not won this week.