Article published on 21 April 2011
Atlantic Lottery Corporation Earns Top WLA Accreditation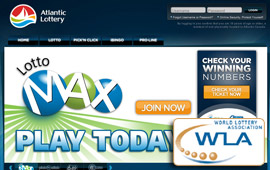 The Maple Gambling image gallery control requires that you have the Flash Player plugin installed and JavaScript enabled in your browser.
The Atlantic Lottery Corporation has become the first such group in Canada to receive the World Lottery Association's prestigious Security Control Standard (SCS) Certification.
The ALC had to complete a rigorous auditing process and prove that it could maintain particularly high levels of security practices before being considered for the certification.
According to the Security and Risk Management Committee Chairman for the WLA, Thierry Pujol, the World Lottery Association's SCS Certification is a rigorous process.
"Being awarded our SCS Certification, the Atlantic Lottery Corporation had to be ISO27001 certified first, which required detailed and formal audits to verify that its information security risk management strategies and processes meet the world's best practices," said Pujol.
"The ISO27001 certification was then followed by a second lottery specific audit," he noted. "We are very pleased to welcome the Atlantic Lottery Corporation to the ranks of lotteries with this level of world class information security processes."
The Security and Compliance Director for the ALC, Thomas Bierbach said that the certification and the prerequisite ISO27001 certification validates that the corporation has what it takes to continuously improve its operational processes and risk management.
The ALC manages and operates lottery games in a number of Canadian provinces, including Nova Scotia, Prince Edward Island, New Brunswick and Newfoundland and Labrador.
"For our players, it means we are committed to the highest standards in safeguarding information and ensuring the integrity of our products," said Bierbach.