Article published on 23 May 2011
New CEO for Ontario Lottery Corp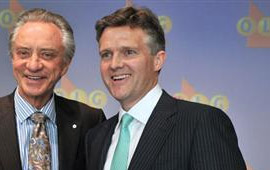 The Maple Gambling image gallery control requires that you have the Flash Player plugin installed and JavaScript enabled in your browser.
On Thursday, the Chairman of the Ontario Lottery and Gaming Corporation, Paul Godfrey announced the name of the new president and Chief Executive Officer of the group.
Rod Phillips will head the OLGC, coming into the job with many years of experience in the corporate world.
Phillips served as Chief of Staff to the former mayor of Toronto, Mel Lastman, and also as president of Shepell-FGI. As such, he has much experience in both the public and private sectors.
Godfrey said that the OLGC board is "confident that Rod is the right leader to continue our efforts towards improving performance, efficiency and cutting costs."
Phillips, who will begin his role in June, will head a team that has been reduced from ten members to only seven.
OLGC Cutting Costs
One of the prime tasks that Phillips will be asked to take on will be that of cutting costs in the organization, which generates around $7 billion annually. Just under one third of that is returned to the province.
By cutting costs, the OLGC, which employs 18,000 people in Ontario, in 34 different locations, will be able to invest more in the province's schools, hospitals and sports organizations, read a statement issued by the corporation. Since the OLGC was introduced in 1975, it has generated over $32 million for the province.
"There's a government set objective with regards to savings and it's a target of $200 million," said Phillips when he was introduced by Godfrey on Thursday.
Phillips also spelled out his mission - that to operate both in the public and private sectors.
"The challenge in the public sector is to operate with one foot in each area; to grow like a business and act like a corporation," he said, "but to understand and take direction from the shareholders of Ontario."