Article published on 24 May 2011
Lotto Max Jackpot Hits for $36 Million!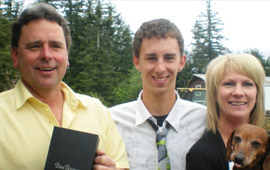 The Maple Gambling image gallery control requires that you have the Flash Player plugin installed and JavaScript enabled in your browser.
A warehouse worker from Campbell River, BC, has become one of the top three winners in BC Lottery Corp history after landing a massive $35,738,798 windfall on the Lotto Max this weekend.
David Rennie will take home this entire amount - tax free - and begin his life as a millionaire 36 times over, together with his wife and young son.
The delighted 48 year old recalled the moment when the took his ticket into a store to check the numbers and the clerk said: "Holy crap, the machine just died."
"Then the big screen started flashing "WINNER! WINNER!" You jut won $35 million," said Rennie. "And I'm long 'WHAT?' And he said, 'You just won!'"
Rennie said that he banged his head in disbelief. "It was insane," he said. "Everyone at the gas bar was losing their minds. It hasn't set in yet. But I feel like I'm up there with the NASA guys. I'm on cloud nine."
Lots of Plans with Lotto Max Windfall
After working hard for many years as a logger and steel factory worker, David Rennie is set to enjoy every single cent of his newfound wealth, together with his family.
Some of his plans include:
Taking in the Canucks verses the San Jose Sharks in the Western Conference Final when he picks up his check in Vancouver on Tuesday.
Buying his parents a townhouse.
Buying at least ten dachshunds. ("We can afford it, right?")
Travelling to Texas and Arizona where his wife will be able to show horses. ("She's going to buy the best.")
Rennie will be able to make around $100,000 in interest every month on this amount, if he invests well.
"It's really kind of neat, because that's a lot of money," said Rennie. "Somebody bought us a bottle of Dom Perignon. We slammed that back and drank a bunch more wine!'