Article published on 21 November 2011
Roberto Luongo Charity Poker Tournament a Success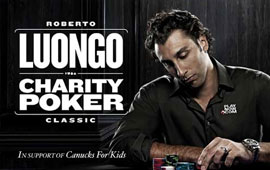 The Maple Gambling image gallery control requires that you have the Flash Player plugin installed and JavaScript enabled in your browser.
Talented NHL goalkeeper, Robert Luongo proved his prowess off the ice, after coming second in his own poker charity tournament hosted last week at the River Rock Casino Resort in Richmond, Canada.
The Vancouver Canucks goalie challenged his colleagues in the Roberto Luongo Charity Poker Classic held on November 14th at the popular BC casino resort, and did himself and his team proud by finishing second overall.
Past and present ice hockey stars who played in the tournament included Grant Fuhr, Tiger Williams, Gino Odjick and Geroy Simon.
The tournament's objective was to raise money for the Canucks for Kids charity and - thanks to a $500 buy in - and it succeeded, as more than $90,000 was raised. The money also came from registration and auction items, and will go towards hockey education, youth health and wellness in British Columbia and grassroots hockey programs.
The $500 registration fee included a $300 buy in and an extra, optional $200 charity donation which bought the player a one-night stay at the River Rock Hotel.
BC Lottery Corp Backs Charity Poker Tourney
The British Columbia Lottery Corporation backed the charity poker tournament, which carried a $45,000 prize pool, as well as a number of themed prizes donated by Luongo and his friends.
"This is a great opportunity to raise money for a terrific cause through a fun night of entertainment," said the Canucks star. "I enjoy getting together with friends to play poker and to have the proceeds donated to charity means a lot to everyone."
Before the event, the Vice President of eGaming for the BCLC, Rhonda Garvey said: "This promises to be an exciting event for poker players. Whether playing Luongo online or winning entry to his charity tournament, it's great to have such unique experiential prizes available for our players to win."
Players could win seats in the charity poker event by playing at PlayNow.com at nightly satellite qualifying events at the site.
In the end, Luongo came second in the charity poker tournament, stepping aside gracefully for local amateur player, Joseph Tang to take top place.
BC Lions slotback Geroy Simon finished in 14th place out of 131 participants, while NHL veteran Tiger Williams and Phoenix Coyotes goalkeeping coach Grant Fuhr both stepped out of the race early by folding in the beginning stages.
Roberto Luongo is an ambassador for the BCLC's online gambling site, PlayNow.com. Although the ice hockey star has come under fire for endorsing gambling by appearing in ads for the site, he has admitted that he loves poker, and that his association with the online poker room helps generate money for charity, as proven by the Roberto Luongo Charity Poker Classic.