Article published on 30 March 2012
BCLC Pays Out Massive Online Casino Jackpot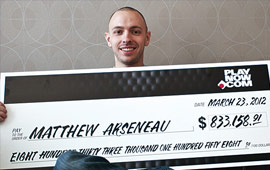 The Maple Gambling image gallery control requires that you have the Flash Player plugin installed and JavaScript enabled in your browser.
A young man from Surrey, British Columbia became the winner of the biggest payout seen on the British Columbia Lottery Corporation's online casino, PlayNow.com.
Matthew Arseneau hit a jackpot worth $833,158.91 when he logged on to the casino in order to try his luck in a competition which promised a trip to Mexico as a prize.
However, instead of winning the prize which he had learned about on the radio station, 99.3, Arseneau was stunned to see that he had won the huge jackpot after wagering just $5 on the popular slots game SuperCubes.
The huge attraction of SuperCubes slot is that it has a progressive jackpot that keeps growing each time it is played. Arseneau had played the minimum amount required to put himself in line to win the jackpot prize, and just happened to be at the right place at the right time.
The problem was, however, that Arseneau is known to be the family joker and nobody took him seriously when they learned that he had won the jackpot.
"I entered the contest and was playing online when it popped up on my computer screen," recalled the 26 year old. "It said I won but it took a dozen times of looking at it before it sunk in."
He said that he had started jumping up and down on the couch, "laughing and screaming," until his mother told him to sit down and be quiet.
"She didn't believe me," he said. "She will now."
BCLC Jackpot Winner will Help Family
Despite his family not believing him on his win initially, there are no hard feelings between Arseneau and his parents and siblings.
He has already thought of amazing things to do with his windfall, most importantly helping his family and spoiling them rotten.
"I am going to buy my little brother a new car," he said, when asked of his plans with the winnings of the BCLC online casino jackpot. "And also help my parents finish with some renovations on their house."
And what of himself? "I haven't yet decided what I'll get for myself, maybe a trip to Mexico if I don't win that too," he quipped.
The British Columbia Lottery Corp. runs PlayNow.com for all BC residents and offers a wide range of lotteries, instant win games and casino games to players.