Article published on 18 May 2012
Lotto Max Jackpot Back Up To $50m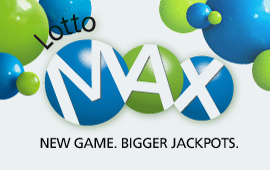 The Maple Gambling image gallery control requires that you have the Flash Player plugin installed and JavaScript enabled in your browser.
For the second consecutive week, Canadians have failed to win the $50 million Lotto Max jackpot up for grabs. As such, there is incredible excitement ahead of tonight's (Friday, May 18th) draw.
Once more, there is $50 million in the top draw jackpot up for grabs, but this week's MaxMillions individual draws brings the total big prize money up to $70 million. Each MaxMillions is worth $1 million, and with an estimated 20 of them in the running tonight, there should be plenty of celebratory cheers around Canada after the draws.
In the last draw, nobody won the $50 million Lotto Max jackpot, however, out of the ten MaxMillions of $1 million each, there were two winning tickets - one from British Columbia and the other from Ontario.
How to Play Lotto Max
For players who haven't yet purchased their Lotto Max tickets ahead of tonight's draw, there is still time until 9 pm Eastern time on the night of the draw.
Tickets are available across Canada at retail stores or online, so there really is no excuse for not buying a chance to win the $50 million Lotto Max jackpot.
Players pay just $5 per play for three sets of numbers, which seems a minimal amount to pay compared to the huge sum of money to be won.
On the lottery ticket, players mark seven numbers from one to forty nine. For each set of numbers played, the terminal generates two additional sets of numbers.
Seven numbers and a bonus number are drawn for the Lotto Max main draw, while seven numbers are drawn for the MaxMillions draws.
Coming Soon: Lotto 649 Anniversary Bonus
In the meantime, lottery players can look forward to the Lotto 649 30th Anniversary Bonus which is running from May 30th to June 30th.
This will see an additional three bonus prizes of $100,000 won in each and every draw during the promotion period.
This means that over and beyond the main lottery prizes up for grabs, there is an extra $300,000 in total which can be won by lucky Canadian lottery players until the end of June.
Players should watch this space for more details about the Lotto 649 30th Anniversary Bonus.