Article published on 8 June 2012
$43 Million Lotto Max Draw Tonight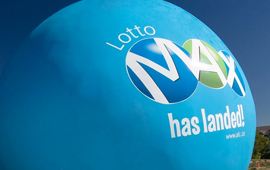 The Maple Gambling image gallery control requires that you have the Flash Player plugin installed and JavaScript enabled in your browser.
Tonight's Lotto Max jackpot draw has an estimated $43 million up for grabs, and there is still plenty of time to get your hands on a ticket before the draw, as tickets will be sold until 6 pm Pacific Time.
The nationwide lottery game which begins with a $10 million jackpot seed has been growing each week and will keep growing if nobody wins tonight's June 8th Lotto Max draw.
Should the Lotto Max reach $50 million, it goes into MaxMillions mode, with $1 million prizes drawn in separate draws.
You need to select seven numbers from one to 49 and match 7/7 to win the top jackpot.
There are also two prize categories for bonus numbers drawn. Matching six of the main jackpot numbers and a bonus number will earn the player the prize in the 6/7+ category, while matching three numbers of the main jackpot and the bonus number earns a prize in the 3/7+ category.
Gold Panner Hits Big Lotto Max Jackpot
Lottery players have been encouraged by the recent big win of marine mechanic Markus Huber from Campbell River who matched six out of seven numbers and an extra to take home over $437,000 on June 1st.
Huber said he buys a Lotto Max ticket each week, and discovered he was a winner after his wife checked the numbers online. "She called out to me, 'Markus, it's you! You're the big winner'", he recalled. "I didn't believe her, so she kept repeating it to me."
Huber is also an amateur gold panner, but he never dreamed that his riches would come from his weekly lottery purchase.
"I will still buy Lotto Max tickets," he said. "I already bought one for Friday's draw!"
The winner said that would keep his job, but he wants to splurge out on a new car, an overseas trip, gifts for his three kids and retirement funds. "We'll live a little bit better now," he predicted.
Purchase Your Lotto Max Tickets Online
If you haven't got time to get down to a lottery retailer today in order to grab your ticket for tonight's $43 million Lotto Max draw, you could purchase the ticket online.
Buying online lottery tickets is the ultimate in convenience, as it can be done from the comfort of your own home, and you are guaranteed entry into some of the biggest lottery draws in Canada.