Article published on 29 June 2012
Lotto Max Jackpot Rollover Now Mammoth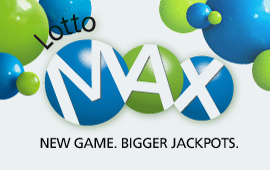 The Maple Gambling image gallery control requires that you have the Flash Player plugin installed and JavaScript enabled in your browser.
Tonight's Lotto Max draw in Canada may finally result in someone walking away with the mammoth $50 million prize.
The lottery has rolled over several times, and although the main jackpot has remained static at a whopping $50 million, each week more $1 million Max Millions prizes have been added to the prize pool, with 28 now waiting to be won.
This means that, potentially, 28 people could become instant millionaires in the draw tonight (June 29th).
As can be expected major excitement has been generated by the $50 million and estimated 28 Max Millions up for grabs, and BCLC, as well as other lotteries across Canada, are reporting that business has never been brisker.
Last Week's $50 Million Lottery Unclaimed
Everyone is hoping that tonight won't see a repeat of last week's draw when nobody won the $50 million Lotto Max jackpot.
It should be noted, however, that six winning tickets were sold for the 18 Max Millions prizes which were up for grabs - making them instant $1 million winners.
Two of the winning Max Millions tickets were bought in Quebec, two in Alberta, and one each in Ontario and British Columbia.
The winning numbers in the June 22nd draw were as follows:
1 - 12 - 20 - 22 - 30 - 34 - 38 and bonus number 33.
Lotto Max Reaches Mammoth Heights
This has been a particularly lucrative week for Canadian lottery players. Jackpots for two of the country's national lottery games reached mammoth amounts that are "rarely seen", according to a news release by the British Columbia Lottery Corporation.
Thursday's Lotto 6/49 draw was an estimated $26 million, while tonight's Lotto Max draw will be $50 million plus 28 Max Million.
"With both jackpots estimated at such high amounts, we anticipate increased excitement among lottery players," said the Vice President of Lottery Gaming at BCLC, Kevin Gass. "This is only the third time in the past year we have seen both lotto jackpots grow to this value."
Lotto Max has draws held every Friday night and it costs $5 to purchase three chances to win (seven numbers each).
To win, players need to match 7/7 numbers, with the odds of winning a Lotto Max jackpot or Max Million prize 1 in 28.6 million per play. All in all, players stand a chance of 1 in 6.6 per play to win any prize.
The largest Lotto Max prize claimed in British Columbia was $50 million in October 2010.