Article published on 13 August 2012
Online Slot Survivor World Series Date Set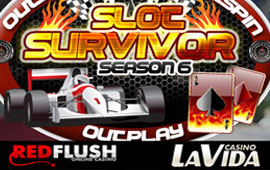 The Maple Gambling image gallery control requires that you have the Flash Player plugin installed and JavaScript enabled in your browser.
The epic online Slot Survivor World Series promotion is set to kick off next week, and players from all over the globe are rolling up their sleeves in anticipation.
This premier online slot tournament will see players at participating online casinos such as Red Flush Casino and Casino La Vida compete against each other in the five week promotion which begins on August 20th.
The Slot Survivor Series is already a much-awaited event at top online casinos during the year, but the World Series promises to be the most popular of them all.
Players will be fighting to get their hands on over $150,000 in prize money - the most that has ever been offered in Slot Survivor rewards.
Slot Survivor World Series Schedule
The schedule for the Slot Survivor World Series will take players on a five week journey of excitement and online video slots action.
There will be three qualifying rounds held over a three week period, while the final will take place over two weeks.
All players need to do is play slots at Casino La Vida or Red Flush Casino after making a deposit and wagering a minimum amount in order to qualify for the next round of the competition.
The top players in each of the three weeks prior to the final will advance to the final stage of the competition, and put themselves in line to win literally thousands of dollars worth of prizes.
The top scorer in the whole competition will be crowned the Slot Survivor World Series Champion of 2012.
To enter the action, players simply need to opt into the tournament at one of the participating online casinos on their respective home page or promotions page.
Global Appeal of Slots Tournament
The Slot Survivor World Series Championship will see players from all over the world pitted against each other, whether from Canada, Europe or anywhere else around the globe.
Last year, a player from Germany won the Slot Survivor Crown, while the year before it was won by a player from France.
As such, Canadian gamblers will be fighting to get the honor of the crown to the North American continent for a change!
"The Slot Survivor World Series promises to be an unforgettable experience," said that Promotions Manager for Red Flush Casino, Alex Roberts. "We hope to see you there."