Article published on 31 August 2012
Lewis Hamilton Favored in Belgian Grand Prix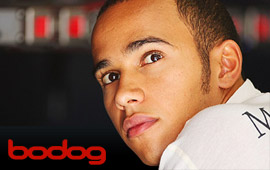 The Maple Gambling image gallery control requires that you have the Flash Player plugin installed and JavaScript enabled in your browser.
British F1 driver Lewis Hamilton may be 47 points behind current leader in the driver standings, Fernando Alonso of Spain, but he will start in the
2012
Belgian Grand Prix at SPA on Sunday as the big 11/4 betting favorite to win.
No doubt one of the biggest reasons for this is how he won the most recent Hungarian Grand Prix in fine style. In that race, Hamilton proved that despite being off the pace in the 2012 F1 Driver's Championship standings, he has more than enough talent, skill and, importantly, focus to close the gap, and go on to win the Championship this season.
Hamilton Has 9 Races to Catch Alonso
Add to that the fact there are still nine races left in the season, which means there is ample opportunity for Hamilton to notch up a few more wins and reel in the frontrunners, which, after Alonso on 164 points, includes Mark Webber of Australia on 124 points and Sebastian Vettel of Germany with 122 points.
However, Kimi Raikkonen of Finland is snapping at Hamilton's heels, just one point back on 116. From there the points gap widens considerably, which means the 2012 F1 Season will more than likely come down to these five drivers.
In the Hungarian Grand Prix, Hamilton led from pole position until the checkered flag, despite being under constant pressure from Raikkonen and his Lotus-Renault teammate, Romain Grosjean of France. Hamilton's concentration, not too mention his ultra quick McLaren-Mercedes, ensured that he was not overtaken.
But there is a lot more at stake for Hamilton than winning a few more races this season. With his lucrative contract with McLaren up for renewal at the end of the year, if he wants to remain with the team and negotiate a new, even more lucrative contract, he needs to show the team bosses what he can do between now and then.
This Season has not Had a 'Runaway' Driver
Despite the leaderboard, this season has not had a 'runaway' driver, considering that out off the 11 races so far, Alonso has only won three, Hamilton and Webber have won two each, and Jenson Button of Britain, Nico Rosberg of Germany, Sebastian Vettel of Germany and Pastor Maldonado of Venezuela have won one each.
For this reason Formula 1 betting levels have been very high this season due to the likelihood that the top spots will change after each race. However, going into Sunday's 2012 Belgian Grand Prix, top-rated Canadian-friendly online sportsbook Bodog has posted the latest betting odds:
2012 Belgian Grand Prix Odds at Bodog
Hamilton, L - 11/4
Vettel, S - 9/2
Raikkonen, K - 5/1
Alonso, F - 11/2
Grosjean, R - 10/1
Button, J - 11/1
Webber, M - 12/1
Rosberg, N - 33/1
Schumacher, M - 33/1
Maldonado, P - 100/1
Massa, F - 100/1
Perez, S - 100/1
Kobayashi, K - 125/1
Di Resta, P - 250/1
H?erg, N - 250/1
Senna, B - 250/1
Ricciardo, D - 750/1
Vergne, JE - 750/1
Kovalainen, H - 2000/1
Petrov, V - 2000/1
Glock, T - 5000/1
Karthikeyan, N - 5000/1
Pic, C - 5000/1
de la Rosa, P - 5000/1