Article published on 12 September 2012
Gambling Groups Display Goods at Lottery Summit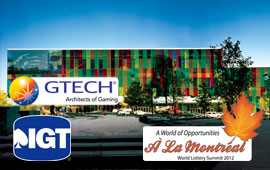 The Maple Gambling image gallery control requires that you have the Flash Player plugin installed and JavaScript enabled in your browser.
Lottery developers such as IGT and GTech are showcasing their newest products this week at the World Lottery Summit in Montreal, Canada.
The summit, which began on September 9th and will end today, September 12th, is a popular venue for top gambling and lottery groups in the industry to roll out new products.
IGT is one of the groups showcasing its industry leading video lottery terminal products this week in Montreal.
"IGT is deeply rooted in the video lottery market and is dedicated to meeting the needs of our customers by offering a portfolio of engaging themes for players that drive revenue," noted IGT's vice president of Global Sales, Eric Tom. "We are happy to be back at the World Lottery Summit to show customers what new products IGT has to deliver."
IGT operates in most major VLT markets in the world and continues to expand its products as new markets open.
Recently the group signed a deal with the Canadian Atlantic Lottery Corporation to supply over 1,600 new VLTs to the four Atlantic provinces.
GTech Launches New Lottery Network
Also rolling out new products among the groups displaying at the lottery summit, is GTech Corp, which has launched a new game developer program which, it says, "lays the foundation for significant advancement within the lottery industry."
The new Lottery Developer Network (LDN) is the industry's first open-development platform, according to GTech Corp, the gaming subsidiary of Lottomatic Group SpA.
"The most powerful aspect of the LDN is that it will open up interactive game development to a much wider group, including other lottery vendors and commercial content providers, to offer truly new opportunities and attract light, lapsed and new players to lottery eInstants," noted the Product Marketing Vice President of GTech, Paul Riley.
World Lottery Summit 2012 is Hugely Popular
The hugely popular World Lottery Summit 2012 has proved to be a top quality comprehensive trade show, which has provided a networking and social events platform to people in the lottery business.
According to the summit's organizers, the WLS 2012 equips delegates with the insight and knowledge needed to prosper in challenging times and showcases the latest developments in lottery related products and services.
"The theme for WLS 2012 is 'a world of opportunities a la Montreal, reflecting the world of opportunities arising from the rapid change of pace in the lottery industry, and the world of opportunities that awaits you in multicultural, cosmopolitan Montreal," said the organizers.