Article published on 14 September 2012
$20 Million Lotto Max Prize Tonight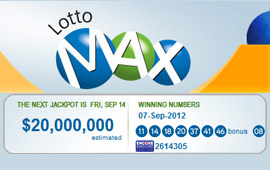 The Maple Gambling image gallery control requires that you have the Flash Player plugin installed and JavaScript enabled in your browser.
Canadian lottery fans are rushing to buy tickets for tonight's Lotto Max draw, inspired by the story of a syndicate of 18 maintenance workers who each won $1.1 million in last week's Lotto Max draw.
There is an estimated $20 million up for grabs tonight, and Lotto Max tickets are available for sale across Canada ahead of the draw.
For just $5 per play for three sets of numbers, players stand in line to win the giant $20 million Lotto Max jackpot. All they need to do is pick seven numbers from 1 to 49 or choose Quick Pick for even simpler gameplay.
Draws for the Lotto Max are held every Friday, and tickets are sold until 9pm Eastern Time on draw nights.
Don't forget to play Encore, costing $1 per play, which offers even more chance to win cash prizes from $2 to $1 million by matching numbers from right to left, or from left to right.
Lotto Max Syndicate Winners Celebrate
Last week's Lotto Max winners are still basking in the afterglow of their incredible, life-changing win.
The eighteen men, who do maintenance work at Suncor's Edmonton refinery, won the $20 million Lotto Max lottery and each one took home more than $1.1 million.
At a press conference held at the Alberta Gaming and Liquor Commission headquarters yesterday, when all 18 came to take home their fat checks, the man who was responsible for checking out the numbers for the group recalled his shock when he learned of their windfall.
Paul Furlong stepped into a convenience store on Saturday morning to check the numbers, knowing that some of the numbers might match.
"I saw a two followed by a bunch of zeroes and knew we won," he said. Furlong, however, believed that their prize was $200,000 and it was only when people in the store started shaking his hand and getting excited, did he realize that it was much more than that.
"I did the happy dance," he said. "I really couldn't believe my eyes!"
Plans for Big Lotto Max Win
The eighteen winners have big plans for their $1.1 million. Seven of them retired almost immediately from their jobs, while others will pay off mortgages, buy a new sports car and travel the world.
"It's really satisfying," said Bernie Doulas who retired right away. "We're a pretty tight group of guys that work at the exchange."
Kelly Walker, another winner, added: "They're still in shock. It was obviously a big win for us in Alberta. Being out of debt and now the mortgage is going to be paid off so that's a huge thing."