Article published on 29 October 2012
NFL 49ers at Cardinals MNF Preview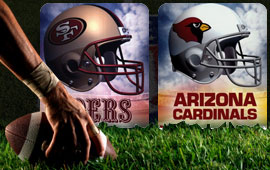 The Maple Gambling image gallery control requires that you have the Flash Player plugin installed and JavaScript enabled in your browser.
As the 2012 NHL lockout continues to p-off sports betting fans across Canada, at least they can turn to domestic and American football to bolster their funds some, assuming their handicapping skills are up to the job.
Looking south of the border, the 2012-13 NFL regular season is become more exciting as it progresses as the top teams continue to assert themselves and the bottom teams continue to plummet further down the standings.
In terms of a game that should attract a fair bit of betting action is tonight's Monday Night Football matchup between hosts the Arizona Cardinals and the visiting San Francisco 49ers at the University of Phoenix Stadium from 8:30 pm tonight.
What should make this NFL matchup a particularly interesting one is the fact both teams are from the NFC West division, which the 49ers are currently heading up with a 5-2 record, just one win ahead of the Cardinals on 4-3.
That and the fact these fierce NFC West rivals each boast some super talented players, particularly in their respective defensive lineups. Let's take a look at where each team is heading into tonight's game in our 49ers at Cardinals MNF Preview:
Arizona Cardinals Have Lost 3 in a Row
Despite having the home ground advantage, the pressure will be on the Cardinals to take down the 49ers considering they have lost three consecutive games, and are eager to get find their winning form.
The big problem for the Cardinals is their offensive lineup which in the last four weeks has given up a lackluster 28 sacks. Add too that the slew of injuries sustained by the team's running backs which has acted to stall their running game (except for Larod Stevens-Howling who played great against the Vikings recently).
The good news though is that the Cardinals have a better than good defense, and if they can just patch up some of the holes in their offense, they may have a shot at taking down the 49ers this evening, despite their big +7 point underdog status at most internet sportsbooks, including Pinnacle Sports.
San Francisco 49ers Have Great Running Game
To say the San Francisco 49ers kicked off the season in excellent style is a fact, showcasing a super successful "run the ball" strategy that is not only wining games, but leaving their opponents scratching their heads in utter amazement. In fact, many NFL experts have described the 49ers' strategy as "genius in its very simplicity."
That said, San Francisco are by no means perfect, their two losses (against the Vikings and the Giants) proof of this. When playing these two teams, the 49ers failed to effectively throw the ball to help them overcome even relatively small point deficits.
But, they are still having a winning season and well deserve to be at the top of the NFC West division. With regards to their chances this evening, we foresee a relatively easy victory over an obviously lacking Arizona Cardinals. Here are the betting odds for tonight's game at Pinnacle Sports:
San Francisco 49ers vs Arizona Cardinals Odds
| | | | |
| --- | --- | --- | --- |
| Teams | Handicap | Money Line | Total Points |
| A San Francisco 49ers | -7 2.020 | 1.333 | Over 38.5 1.952 |
| H Arizona Cardinals | +7 1.909 | 3.640 | Under 38.5 1.952 |