Article published on 7 November 2012
Legality of Saskatchewan Online Casino Questioned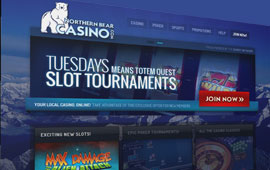 The Maple Gambling image gallery control requires that you have the Flash Player plugin installed and JavaScript enabled in your browser.
The provincial government in Saskatchewan (Canada) refused to comment on the opening of the online casino launched in the First Nations jurisdiction on Tuesday, saying that it prefers to monitor the situation and check the legality of the venture before giving interviews.
The Chief Executive Officer of the company, Northern Bear, said that the casino would definitely attract controversy and test the limits of the First Nations.
Bernie Shepherd said: "Like any business, I'm doing it to make money. I hope we can be successful globally."
Shepherd said that although he was aware that the provincial government had not given the green light to the venture - something which goes against Canadian gambling laws - he was not afraid of the challenge it brought with it.
"I'm establishing our jurisdiction," he said. "We have inherent rights - treaty rights and constitutional rights. In our minds, this is legal."
The government has reacted by saying that it will monitor to see what happens on Tuesday "and decide what steps to take at the appropriate time."
Multimillion Dollar Online Gambling Industry
With the rise of online gambling numbers across the world, Shepherd said that it was only right that the Saskatchewan First Nations enjoy the advantages of this industry as well.
He called on the First Nations to "grab a piece" of the industry, and join the venture, which is being run from the White Bear First Nation, SE of Regina.
Shepherd recently left a top position at the Federation of Saskatchewan Indian Nations in order to start the company and offer online gambling to the public.
Shepherd was heavily embroiled in a gambling battle which took place between the provincial government and First Nations in 1993, when authorities raided a casino at White Bear. Shepherd and others arrested along with him were never charged and the government eventually signed an agreement with the First Nations to allow gaming within their jurisdiction. Today, White Bear is home to several casinos.
First Nations Sought Legal Advice
Although Shepherd admits that he has not approached the authorities about his new venture, he has consulted with lawyers and industry experts.
"It's the same as '93," he said about the first Saskatchewan online casino. "Any time First Nations get into anything that generates revenue, governments try to say it's illegal. We're going to create revenue and jobs, and there are no taxpayer dollars required."