Article published on 10 July 2015
Playtechs Beach Life Pays Out ?3.7m Jackpot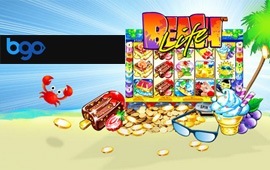 The Maple Gambling image gallery control requires that you have the Flash Player plugin installed and JavaScript enabled in your browser.
There has been much excitement in the online gaming world as Playtech's Beach Life has paid out a £3.7 million jackpot. The huge jackpot win went to a lucky player in the United Kingdom. Players from all around the world stand the chance of winning big on a Playtech progressive jackpot slot game.
Second Largest Playtech Jackpot Win
The Beach Life progressive slot game has paid out the second largest Playtech jackpot over the gaming software company's 16-year history. The highest jackpot paid out by the software provider was paid out on the same slot game in February 2012. The largest progressive ever won at a Playtech casino is £4.4 million.
The lucky player, known as Hilton, was playing Beach Life at bgo.com. He was wagering 50p per payline, which made each spin's total wager equal to £10. Hilton won the huge 3.7 million jackpot when the reels lined up to show five sunshine symbols. Winning a big jackpot like this can definitely make the winner's day shine as brightly as the five sunshine symbols seen in the winning combination.
Although we know that the winner's username is Hilton, he has chosen to remain anonymous after this massive win. Hilton had planned a trip locally within the UK to enjoy a bit of sun and beach, however, after this win, those plans have been scrapped, and he is planning to head off to a far more spectacular beach holiday in the Caribbean.
In a statement, Hilton said: "I'm still in shock. Things like this usually happen to other people. I don't have big plans to spend all the money but my mum and my dad will be getting their bungalow. My nieces and nephews will be getting a good start in life. I'm still schocked."
Playtech Comments
The Chief Operating Officer of Playtech, Shimon Akad, said: "This is a tremendous win on one of our most popular games and on one of our newest licensees. The Playtech casino jackpot network continues to deliver outstanding results for our customers, and as we've seen from today's news, their loyal players."
Playtech also offers other progressive jackpot slots that total over £1 million at this time. Spamalot is currently sitting at a whopping £1.8 million, Jackpot Giant is at £1.6 million, and Funky Fruits is sitting at £1.1 million. Although these jackpots might not be as large as the recently won Beach Life jackpot, the winners of each of these will also become instant millionaires.