Article published on 11 August 2009
US Indicts Canadian on Internet Gambling Charges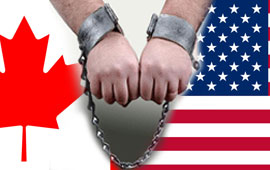 The Maple Gambling image gallery control requires that you have the Flash Player plugin installed and JavaScript enabled in your browser.
37 year old Canadian citizen, Douglas Rennick is facing charges of bank fraud, money laundering and illegal internet gambling by the US authorities as the country continues its crackdown on offshore online gambling.
Rennick's opening of an account at the Washington Mutual Bank in California may have led the authorities to finally charge him with transferring around $350 million from a bank in Cyprus to online gamblers in the United States.
An indictment read in New York this week said that the US gamblers in question had played slots, poker, "and other casino games."
The question now stands as to whether the Canadian authorities will extradite Rennick to face charges in the United States.
A leading Toronto attorney said: "It raises the issue whether one country can apply its law to citizens of another country." He said that Canada has nothing similar to the Unlawful Internet Gambling Enforcement Act (UIGEA) and therefore may not have grounds to extradite Rennick.
A spokesperson for the US Attorney for the Southern District of New York would not comment on the extradition issue.
According to the indictment against Rennick, he controlled a number of firms, including Account Services, that disbursed funds from offshore gambling operators.
The crackdown comes as the US authorities turn their focus on third party transaction processors, as they find it nearly impossible to deal with offshore servers.