Article published on 5 February 2011
Thousands of Canadians Betting on Super Bowl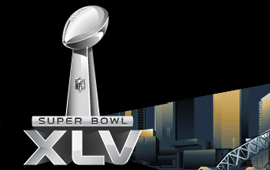 The Maple Gambling image gallery control requires that you have the Flash Player plugin installed and JavaScript enabled in your browser.
An article that appeared in the Montreal Gazette shows just how passionate Canadians are about their sports betting.
A recent study cited in the article shows that 13% of all Canadians will be placing some form of bet on tomorrow's NFL Championship Super Bowl in Texas - and that's not counting bets at ' illegal' online gambling sites!
The majority of these 13% are personal - between friends or family members - as Canadians back their favourite team out of the Green Bay Packers or the Pittsburgh Steelers.
According to the survey, the most popular bet placed is between friends, relatives or work colleagues.
5% of those participated in a pool and 3% played games through their provincial lottery and gaming authority.
The Vice President of Ipsos Reid, Jason Walker said: "We're passionate about our sports. And we're willing to put our money where our mouth is."
It is believed that many, many more Canadians, however, have placed wagers through off-shore bookmaker sites as, according to the VP of the Canadian Gaming Association, Paul Burns, they are unable to legally place bets strictly on the outcome of the game through local retailers.
Pro Line tickets allow them to only gamble on several games (including the Super Bowl) at once.
The article also shows that the typical sports gambler in Canada is an 18 - 34 year old male.
23% of men have bet sports in the past year, compared to only 14% women.
The study shows that British Columbians are most likely to bet on sports, while Atlantic Canadians are least likely.