Article published on 11 February 2010
New Microgaming Slot Games are Out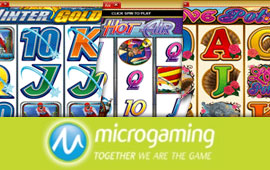 The Maple Gambling image gallery control requires that you have the Flash Player plugin installed and JavaScript enabled in your browser.
Microgaming has done it again. The software giant has announced another fantastic new lineup of games that are set to thrill players with their rich features and innovative themes.
Slot fans will therefore be thrilled with the three new titles that appear at leading Microgaming casinos already.
The games carry titles such as Hot Air, Winter Gold and Love Potion.
Hot Air, as its title implies, takes players on a fantastic balloon adventure across open skies in the company of a humorous pilot who can't wait to show off his cool colourful balloon.
The game has plenty of reward options across its five reels and 30 pay lines, including free spins that can turn from 10 to 50 if the winds are blowing your way!
Hot Air also features a gamble feature that allows players to double or quadruple their winnings.
Winter Gold was launched by Microgaming to coincide with the Winter Olympics currently running in Canada, and - while nothing can compete with the real thing - this new slot game will certainly make do as a substitute!
The game boasts an exciting second screen bonus feature that allows players to take part in some of the great sporting events being held in the real Olympics, including speed skating, bob sleighing and ski jumping.
With lots of free spins, automatic payouts and multiplier rewards is one game that players will be seeking out long after the Olympics are over.
No February line up would be complete without a game to commemorate Valentine's Day and Love Potion will have players spellbound and love struck with its great graphics and winning features.