Article published on 3 April 2010
Canadian Gambling iTax Story was a Hoax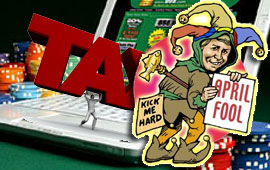 The Maple Gambling image gallery control requires that you have the Flash Player plugin installed and JavaScript enabled in your browser.
A story that ran this week about a new tax that the Canadian government is considering imposing on the country's internet users has been shown to be a hoax.
The newspaper decided to play an April Fool's joke on its readers and had literally thousands convinced that the new tax would be introduced very soon.
According to the report, the use of the internet would be taxed according to the sites that Canadians visited.
So called 'sin-sites' would be taxed the most and included internet poker and gambling, pornography and social networking sites such as Facebook.
The government was quoted as saying that it was searching for ways to increase revenue and this seemed to be the perfect way to do say.
A group called the Free Online from Our Parliament Association (FOOPA) was supposedly formed to fight the new iTax, and its president was quoted as saying that the idea of the new tax was "information highway robbery."
The government was then quoted as refuting these claims and saying, "This is no different than paying that extra little fee when you go to an ATM machine. And no one complains about that, do they?"
The Winnipeg Sun was not the only gambling site to play practical jokes on its readers.
A leading poker portal ran a story that, for the first time in history, a poker tournament would be held at the North Pole.
"Summer may be on the way but attention is turning to one of the colder poker championships on the calendar," read the article. "The inaugural NPPC (North Pole Poker Championships) will take place during this year's WSOP Main Event as direct competition to the biggest poker tournament around."
No doubt many poker fans believed this story, and the portal had to set the record straight the following day.