Article published on 25 June 2010
InterCasino Millionaires Club Slot Jackpot Nearing a Million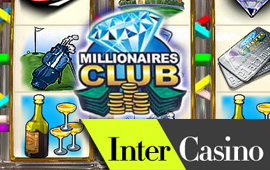 The Maple Gambling image gallery control requires that you have the Flash Player plugin installed and JavaScript enabled in your browser.
Out of all Cryptologic's online slot games, one truly stands out for its entertaining features and rewards.
Millionaires Club is a game that certainly lives up to its name, and has awarded literally millions of dollars to lucky players from around the globe.
In 2007 alone, over $15 million was paid out.
InterCasino, the Crypto powered online site, announced that the jackpot prize on Millionaires Club is fast approaching the $1 million mark, and - with around $10,000 being wagered on this game every day - it may be any day now that the game reaches the milestone.
A statement by InterCasino read: "This is an amazing opportunity to get users involved in this truly unique game that could make someone an instant millionaire at InterCasino."
There are plenty of reasons to try out Millionaires Club. The game is graphically superior, full of rich animations, great sound features and amazing bonus rounds.
The game also holds the industry record for paying out the world's largest slot jackpot at a whopping EIGHT MILLION DOLLARS!'
"Powered by Cryptologic software, Millionaires Club is as visually striking as it is playable, which is no surprise when you consider that the casino aims to give you as near to a real life casino environment as possible," said InterCasino.
"This aim is achieved by using three dimensional rendered graphics and digital sound effects to make you feel as if you're really there. The software runs smoothly and free updates ensure that your InterCasino.com application will always be on the cutting edge," the site added.
The jackpot of this game is expected to climb faster and higher as more players flock to InterCasino to try their luck at Millionaires Club and other casino games.