Article published on 18 December 2010
Canadian Poker Champ Duhamel Could be Athlete of the Year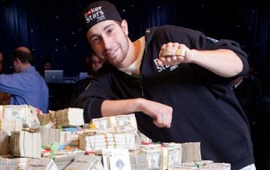 The Maple Gambling image gallery control requires that you have the Flash Player plugin installed and JavaScript enabled in your browser.
Jonathan Duhamel, the young poker player who took home this year's 2010 World Series of Poker main event winner's bracelet, has been nominated to become Canadian Athlete of the Year.
He is one of sixteen nominations by Sportsnet.ca and the final outcome will be determined by the Canadian public.
There are several rounds of nominations in this prestigious award, and Duhamel is up against stiff competition from the start.
He will first need to get past Tessa Virtue and Scott Moir (who are competing as one unit), the gold medal winning pairs figure skating team who represented Canada in the 2010 Winter Olympics.
If he is lucky enough to get past this team, Duhamel then meets the likes of Sidney Crosby (Canadian Hockey champ) and freestyle skier Ashleigh McIvor.
Also on the nominees list are NBA MVP Steve Nash and UFC champion George St. Pierre.
By being nominated as a potential Canadian Athlete of the Year winner, Jonathan Duhamel has once again opened the age old question of whether poker can be considered a sport or not.
His very presence on the list means that Sportsnet.ca at least believes that poker is a sport in every sense of the word.
It now remains up to the public to determine whether they believe Duhamel should advance beyond the first round of nominations.
The player became an instant celebrity in Canada and around the world when he pocketed $9 million in the recent WSOP 201 Championships.