Article published on 29 December 2010
Fillies to Vie for California Oaks Title on New Years Day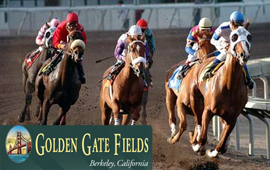 The Maple Gambling image gallery control requires that you have the Flash Player plugin installed and JavaScript enabled in your browser.
On New Year's Day, a field of talented 3-year-old fillies will take on the
$100,000 California Oaks
over 1 1/16 miles at
Golden Gate Fields
in California, including Lilacs and Lace and Game to Run.
The two fillies duelled against each other in the Corte Madera Stakes earlier this month at this course, where they tied for second place behind winner Cathy's Crunches, who is also expected to start in Saturday's race.
In the Corte Madera Stakes, it looked like the two fillies had the race sewn up until they were passed in the late stages by a cruising Cathy's Crunches. So it will be interesting to see how the trio fare on the weekend.
For betting fans of Lilacs and Lace and Game to Run, the stakes are particularly high considering how similar these two fillies are, as both have five starts to their name, and have improved their Beyer ratings in each.
According to Lilacs and Lace's trainer Duane Offield, she will continue to improve as her race distances are increased. 'She's bred to go a mile and a half. As Flower Alley's get more mature, they seem to run well.'
The trainer was referring to the fact that Lilacs and Lace's dam is Flower Alley, a proven distance runner. 'We like her, and going long was one of the things we were really looking forward to seeing in her,' said Offield.
As for Game to Run, trainer Bill Delia believes she is destined to make her mark on turf, but he does not want to pass up Saturday's two-turn California Oaks, despite it being contested on Tapeta Footings synthetic dirt.
'I'd like to keep her on the grass,' said Delia. 'I feel she's better there as she's got action for the turf. I think she will excel on turf, but right now I just want her to get through this upcoming hurdle at Golden Gate Fields.'