Article published on 2 February 2011
2010 O'Brien Awards Recognize Excellence in Canadian Horse racing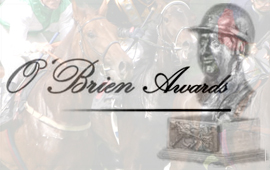 The Maple Gambling image gallery control requires that you have the Flash Player plugin installed and JavaScript enabled in your browser.
On Saturday night, the who's who of the
Canadian harness racing
industry attended the glittering
2010 O'Brien Awards
in Toronto, Canada, which are held annually to acknowledge and celebrate excellence and achievement in the sport.
And this year was no different, as Canadian horsemen attended the event from far and wide to pay tribute to the awards' late namesake, Joe O'Brien, who was highly revered in the sport and is a member of the Canadian Horse Racing Hall of Fame.
As expected, this year's O'Brien Awards 'people' winners included some previous winners as well as many first time winners, each of whom has made a great contribution to Canadian harness racing over the past year by bringing their best to the fore.
These included trainer Casie Coleman, who won three O'Brien Awards: Trainer of the Year, Two-Year-Old Pacing Filly (Idyllic) and Three-Year-Old Pacing Filly (Western Silk). At just 30, Coleman has more than made her mark on the Canadian harness racing industry, this being the fourth time she has been voted Trainer of the Year, and no doubt not the last.
But while Coleman may have been the toast of the ceremony with three coveted O'Brien awards to her name, arguably the biggest award of the evening was 2010 Horse of the Year, which went to Dreamfair Eternal, the daughter of Camluck. In 2010, the mare won 16 out of 22 starts and more than $942,000 in purses for her owner, John Lamers. Dreamfair Eternal also won the Older Pacing Mare of the Year award.
Other notable awards included Randy Waples, who took home his third O'Brien Driver of the Year trophy after coming off one of his best ever seasons. In 2010 he was a regular driver of amongst others of Dreamfair Eternal, San Pail, winner of the Older Trotting Horse of the Year award, and Text Me, winner of the Three-Year-Old Trotting Colt of the Year award.
Here are the complete 2010 O'Brien Awards winners:
Pacers
Two-Year-Old Pacing Filly - Idyllic
Two-Year-Old Pacing Colt - Big Jim
Three-Year-Old Pacing Filly - Western Silk
Three-Year-Old Pacing Colt - Rock N Roll Heaven
Older Pacing Mare - Dreamfair Eternal
Older Pacing Horse - Won The West
Trotters
Two-Year-Old Trotting Filly - Crys Dream
Two-Year-Old Trotting Colt - Blue Porsche
Three-Year-Old Trotting Filly - Random Destiny
Three-Year-Old Trotting Colt - Text Me
Older Trotting Mare - Windsong Soprano
Older Trotting Horse - San Pail
2010 O'Brien Horse of the Year - Dreamfair Eternal
Horsemen
O'Brien Award of Horsemanship - Rick Zeron
Armstrong Breeder of the Year - Robert McIntosh Stables
Driver of the Year - Randy Waples
Trainer of the Year - Casie Coleman