Article published on 6 May 2011
Gold Mega Jackpot Hits at Party Casino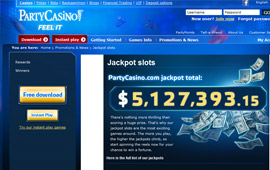 The Maple Gambling image gallery control requires that you have the Flash Player plugin installed and JavaScript enabled in your browser.
Party Casino continues to prove why it is one of the most popular online casinos in the industry, offering some of the highest prizes around.
One very lucky player, Cameeq8, became an instant millionaire twice over after she hit the Gold Mega Jackpot at Party Casino, scooping a $2 million prize on the SuperStar online video slot game.
"I deposited $50 and kept playing until it got to $4,500 and all of a sudden there was this different box pop up to pick six out of nine boxes. I hit two dollar signs and then I saw $1.9 million on the screen!" she said after her win.
"I then told my spouse that there was nothing to get excited about, I hadn't won that amount," she said. "My spouse then left the house to pick up our pizza and now all alone at home, I checked my balance and saw $1.9 million dollars! I started screaming with excitement."
The Gold Mega Jackpot was linked to a number of slot games at Party Casino, and has now been returned to its original seed amount, where it will grow once more.
"I am going to pay off debts, provide education for my children, fix my house, travel with my buddies and relax," promised Cameeq8.
"It's a dream come true," she added.
In the meantime, players should head off to play games such as Melon Madness and Snowbusiness to put themselves in line to win Party Casino's biggest online progressive yet - The Big One.
There are over $4,000,0000 waiting to be won in The Big One, and the number continues to climb at Party Casino.
The Big One carries the biggest online jackpot seed ($1.5 million) and is structured as a five tiered pool.