Article published on 1 February 2012
New Live Dealer Diamond Edition by Microgaming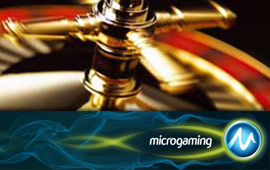 The Maple Gambling image gallery control requires that you have the Flash Player plugin installed and JavaScript enabled in your browser.
The online casino software provider, Microgaming, has introduced an updated version of its popular live dealer platform, which is expected to go down a treat with online gambling fans.
In a press release, the group rolled out its Live Dealer Diamond Edition, an upgraded and enhanced version of its existing live dealer games, with an exciting new multiplayer roulette offering.
According to the press release, the new Diamond Edition "offers redefined graphics that give the player a heightened sense of being in a casino, while providing more statistics than ever before to aid their chances of winning big money."
All this is in addition to the quality HD video streaming which is offered by Microgaming through its live Dealer platform.
New Microgaming Live Multiplayer Roulette
Perhaps the most exciting feature of Microgaming's new Diamond Edition live games platform is the new live multiplayer roulette game, where players can view other player's bets on the roulette table in real time.
"This has come in response to a surge in the number of gamers enjoying Microgaming's multiplayer offers," reads the press release.
Many players on Microgaming's Live Games platform regularly wager against other players from around the world.
"The Diamond Edition was partly conceived because of the trend we have noticed towards playing multi player games, and we were keen to ensure that players have an even greater opportunity to take advantage of this function, this time through roulette," said a spokesman for Microgaming.
The spokesman said that 16 Microgaming partners, including sites such as Royal Vegas Casino and All Slots Casino, use the company's Live Games product which was only launched to the market a year ago.
"Our first rate technology and comprehensive live experience is being used by thousands of gamers worldwide," said the spokesman.
New Live Dealer Platform Offers Unique Gaming Experience
A spokesman for Royal Vegas Casino, a partner site in the Microgaming network of online casinos, said about the new live dealer offering: "We are excited to launch Microgaming's new multi player Roulette which gives our players a unique and social gaming experience. The bet on table functionality is innovative and we know that the Live Dealer Diamond Edition will be a huge hit with our players."
The new Microgaming Live Dealer Diamond Edition will be available at all online casinos which offer the casino software provider's live gambling platform, and promises to become a popular choice among online gamblers.