Article published on 4 September 2013
Bodog Canada Launches Lucrative Mobile Casino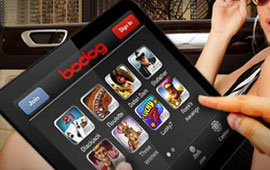 The Maple Gambling image gallery control requires that you have the Flash Player plugin installed and JavaScript enabled in your browser.
With mobile gaming on the rise, those who play in online casinos and use online sports books, have come to expect that they will also be able to place their wagers and enjoy great games via their mobile devices.
Equally, a growing number of online casinos around the world have started to offer mobile versions of their casinos, with the highly rated Bodog Canada the latest internet gaming powerhouse to join this trend.
Bodog Canada Releases Mobile Casino
Bodog Canada's casino is now offering its players a mobile casino offering. Bodog Casino already has a mobile casino available in Europe, and the new move toward a Canadian mobile casino is expected to be a positive and popular development, just as it has been for European players.
Mairanne Hughes, the Casino Manager at Bodog Canada, had the following to say regarding the new mobile casino launch: "Having a mobile friendly casino is an obvious step to take and one which we have been keen to launch for some time. If the European market is any kind of gauge, this will be very popular in Canada, and gives us a great first mover advantage here."
For those who wish to play in the Bodog Canada Mobile Casino, the offering is already available across a number of mobile platforms. The Bodog Canada Mobile Casino can be played on both the Apple operating system, iOS, and it can also be played on those mobile devices that are run on Android operating systems.
It is also compatible with the iPhone 3, 4, 4S and the iPhone 5. Players who would prefer to play on their iPads and other tablets can also do so.
Mobile Games Available at Bodog Canada
The Bodog Casino mobile offering in Canada has been launched with a number of top quality mobile casino games, which include a great choice of 3D slots and other popular casino games.
The slots choices include a classic slot, Lucky 7, as well as Rooks Revenge, Safari Sam, Three Wishes, At the Copa, Mr. Vegas, After Night Falls, and Slot Father. Players can also enjoy the Bodog mobile blackjack offering, and the European Roulette game.
Mobile casinos have become increasingly popular as more and more players are now using smartphones and tablet computers. Players who are able to access the Internet from almost anywhere now expect that they should be able to enjoy all the benefits of online casinos while they are on the go.
For Canadian online casino players who were waiting for the day when Bodog Casino Canada would go mobile, the wait is finally over, and mobile casino play has begun.