Article published on 21 May 2014
Money Tree and Football Fever at Casino.com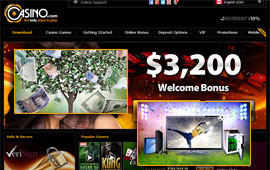 The Maple Gambling image gallery control requires that you have the Flash Player plugin installed and JavaScript enabled in your browser.
There are a number of great casino promotions that can be played at online casinos. Included in these great promotions are The Great Games Tournament, Apple Raffle, Money Tree, and Football Fever at Casino.com. Players in Canada and around the world have already been enjoying these great online casino promotions, and can still do so through the end of the month.
Money Tree and Football Fever Promotions
We all grow up hoping that a money tree will be a real thing, and at Casino.com, the virtual Money Tree can help keep our childhood dreams alive. At Casino.com, players get to "shake the Money Tree" to receive additional bonuses. When players make a deposit of $20 or more at Casino.com, and use the bonus code MONEYTREE, they are instantly awarded an additional 25%. Players can make use of this bonus up to 5 days a week up to a value of $250 a day. This promotion runs until June 1st.
The whole world is feeling the Football Fever with the 2014 World Cup Soccer beginning in June. Football Fever is a great prize draw promotion. Players who wish to join in need to opt into the promotion, make a deposit of at least $50, and will receive a prize draw ticket for each $50 that is deposited during the promotional period. This promotion will be running until June 6th, at which time all those players who are eligible for the prize draw will have their tickets entered into the draw. There is only one lucky winner who will win a package including a 60 inch 3D Smart TV along with a Sony PS4 Console, and the FIFA 14 Game for PS4, along with a refrigerator for storing beer.
In addition to these great promotions, players can also join in with the Great Games Tournament, the Apple Raffle, and Casino.com's regular bonuses and promotions that are available.
BetSoft Software Coming to Casino.com
Not only does Casino.com have great promotions, the casino, which is part of the Mansion Casino group has announced that the casino will be adding some new slot games to its repertoire after having signed a deal with the Dutch gaming software company, BetSoft Gaming. To begin with, there will be a number of mobile slots added from the BetSoft ToGo suite of mobile casino games. It is expected that some new desktop games will added soon. Casino.com is operated on Playtech Casino Software.