Article published on 26 November 2014
An Extra December Payday at Casino.com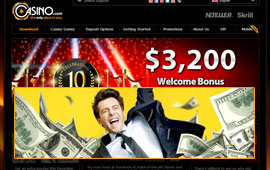 The Maple Gambling image gallery control requires that you have the Flash Player plugin installed and JavaScript enabled in your browser.
The Festive Season is approaching and no matter what your plans are, a bit of extra cash can go a long way. Casino.com wants to join in the fun and celebrate along with some lucky winners. Players can still join in the promotion that will offer a lucky player an extra December Payday at Casino.com. For those players who have not yet entered the Christmas Come Early promotion, there are still a few days to go before the winners are announced.
December Payday Promotion at Casino.com
The December Payday promotion is already underway and will continue until Thursday, December 11th. The winner of this promotion will receive $5,000 as a prize. This extra cash can be used for anything from buying gifts to fill Christmas stockings to treating yourself to a vacation, or any other use the winner would like to make of this cash prize.
Players who wish to opt in to this promotion should do so on the Casino.com site once they have signed in with their real money accounts. To opt in, players simply need to make a deposit of at least $50. The $50 deposit gives players an entry to the December Payday prize draw. New players can also opt in to this promotion. As long as the new player has opted in to the promotion, their first deposit at the online casino can be counted both for December Payday and as part of the Welcome Bonus.
Christmas Come Early Promotion
The Christmas Come Early promo is one in which players on each loyalty level will play and earn points, with the points leaders taking home the prizes. Those winners that are in the UK will be awarded a set list of prizes that will be delivered to their doors. Players in Canada have it even better if they win because they will be given the cash equivalent of the prizes offered. The prizes will be paid to any Canadian winners in Canadian dollars. This means that players can choose how to spend their winnings themselves.
To enter the promotion, simply opt in and play to earn as many loyalty points as you can until the promotion ends at the end of November. The VIP Elite prize is up to $15k, the VIP prize is up to $10k, and the Bronze, Silver, Gold prize is up to $5k. The next four placers on each level are awarded casino bonuses.
About Casino.com
Casino.com offers new players a Welcome Bonus package of up to $3,200. The online casino is operated on software from Playtech and is licensed and regulated in Gibraltar. The online casino holds accreditation from Gamcare and TST.