Article published on 10 December 2014
Game of Thrones Now at Microgaming Casinos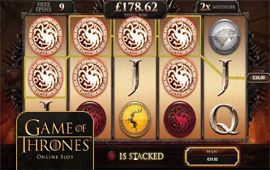 The Maple Gambling image gallery control requires that you have the Flash Player plugin installed and JavaScript enabled in your browser.
After the initial announcement that Microgaming and HBO had inked a deal in February, the much anticipated Game of Thrones slot is now live at Microgaming casinos. After its release at the beginning of this month, the game is already proving itself to be very popular with players.
In October, Microgaming released a preview of the Game of Thrones slot and announced its December 2014 release. As is expected from this well-established and trusted gaming software provider, the game was delivered to online casinos on time.
Game of Thrones Slot
The Game of Thrones slot is a five reel, three row slot that is being offered as either a 243 ways to win slot game, or a 15 payline game. Players can choose which format they prefer to play.
In the Game of Thrones slot, players will find themselves entering the world of Westeros. The four great Houses are in competition, and players will get to serve one of the four Houses in the special free spins feature. Once three Iron Throne scatter symbols are seen on the reels, the special feature is triggered and players can choose whether they wish to serve the House of Baratheon, Stark, Lannister, or Targaryen.
House Baratheon comes with eight free spins that have 5x multipliers. House Stark gives players 14 free spins with 3x multipliers. House Lannister offers 10 free spins with a 4x multiplier, and House Targaryen offers a whopping 18 free spins with a 2x multiplier.
Those players who wish to extend their adventure can do so by taking the leap of a gamble feature. In keeping with the game theme, a rare Braavosi coin is tossed to discover the outcome. Players will find some other great special features including random prizes offered when two scatters land anywhere on the reels. When the two scatters are seen, a fiery dragon's egg will appear to reveal the prize. There are also stacked wilds that can be found across all the reels.
Microgaming's CEO Comments
Microgaming's Chief Executive Officer, Roger Raatgever, commented on the new slot release: "We revealed our licensing agreement for the Game of Thrones series in February, and anticipation for the game's launch has been building every since. Such is the power of the Game of Thrones brand!"
Mr. Raatgever noted that the game went live on both the regular Microgaming platform and the Quickfire platform for both online and mobile casino players. "Players can now enter the fantastical world of Game of Thrones with our new online slot!"