Article published on 21 May 2015
Time Travelers Promotion at Jackpot Capital Casino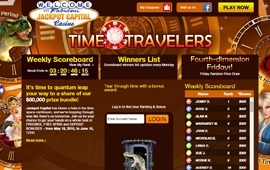 The Maple Gambling image gallery control requires that you have the Flash Player plugin installed and JavaScript enabled in your browser.
Online casino players who wish to stand the chance of winning a portion of $80,000 in prizes should join in the fun with the Time Travelers promotion at Jackpot Capital Casino. The promotion has just begun, and will continue through the end of this month until June 15th.
Time Travelers Promotion Details
Jackpot Capital Casino invites its players to "Join us on a trip down the Jackpot Capital wormhole, and take a quantum leap into an $80,000 prize storm!" The $80,000 is being given away as prizes, bonuses, and freebies.
Since the promotion is all about time travel, players will notice that the promotional dates on the Jackpot Capital Casino site are set from May 18th, 2015 through to June 15th, 1777. Players will travel backwards and forwards in time, earning station trophies as they move from one era to the next.
Each week of the promotion is run separately. Play begins on Mondays and ends the following Monday, with the scoreboard being reset each week. In order to enter the promotion, players need to make a deposit of at least $100 each week of the promotion. Players will earn one point for each $500 that they place in bets during the promotional period, along with another point for every $20 that is deposited each week. Players need a minimum of five scoreboard points per week, at least one of which must come from wagers.
There are weekly bonuses awarded to those who rank from first place down to the 200th place, with the top three players each being awarded $500 in bonuses. There is an additional random bonus awarded to lucky winners in the Fourth Dimension Friday Bonus.
On Tuesdays, the station prizes will be announced. These prizes are based on the number of points that have been accumulated throughout the promotion. Two of the players who reach the fourth station will receive $500 cash bonuses. Five players who have reached the third station will win $300 bonuses. Seven players who have reached station two will receive $200 bonuses, and eleven players who have reached the first station will each receive a $100 bonus.
About Jackpot Capital Casino
Jackpot Capital Casino is operated on gaming software by Realtime Gaming (RTG). The casino holds accreditation from TST, CDS Corporation, and Affiliate Guard Dog. Any queries that players may have can be directed to the responsive customer support team 24 hours a day, seven days a week.