Article published on 28 July 2015
Mega Moolah Progressive Rises Past 8.5 Million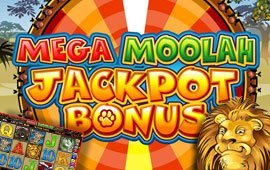 The Maple Gambling image gallery control requires that you have the Flash Player plugin installed and JavaScript enabled in your browser.
Once again, a progressive slot jackpot has continued to grow, and has reached into the millions. The extremely lucrative Mega Moolah progressive jackpot has risen past 8.5 million, and is continuing to rise as players attempt to hit the huge jackpot.
All-Time High for Mega Moolah Jackpot
Mega Moolah has made a number of slots players into millionaires, and will continue to do so. The slot has now reached an all-time high, at more than 8.5 million.
Although the game began with only the jungle-themed Mega Moolah slot game, players can now choose from a number of other games that all feed into the same jackpot. Choices include Mega Moolah, The Dark Knight, and Mega Moolah Summertime.
The Head of Casino at Microgaming, John Quinn, commented on the Mega Moolah millions: "We've watched the progressive ticker grow considerably over the last few months, and anticipation is building as to when it's going to be triggered. When hit, it is going to be a life-changing amount for one very lucky player, and as always, they will take home the win in one lump sum. We don't believe in annuities!"
The Mega Moolah Progressive Slot
Mega Moolah is a four-tiered progressive slot jackpot that regularly pays out winnings on the lower three tiers. The top tier, the Mega Progressive jackpot, is seeded at one million, and although it pays out less regularly, those who win the main jackpot become instant millionaires.
The other three jackpots include the Major Progressive, seeded at 10,000, the Minor Progressive, seeded at 100, and the Mini Progressive, seeded at 10. These jackpots are usually hit a number of times a week, often on a daily basis.
Microgaming pays out winnings in the currency in which games are played. This means that if the winner of the current Mega Moolah jackpot is located in the UK, they will be paid out more than 8,500,000 British Pounds, and if the winner is in Canada, the payout will be more than 8,500,000 Canadian Dollars.
About Microgaming
Microgaming has been creating online casino software since 1994. The gaming software provider has created and developed thousands of games for Internet casino, mobile casinos, online poker, online bingo, and land-based casino games. In addition to this, the company has also developed multiplayer games, Live Dealer games, sportsbook software, gaming business solutions, and Quickfire. Microgaming is located in the Isle of Man.