Article published on 26 May 2011
US Government Indicts 10 More Online Poker Sites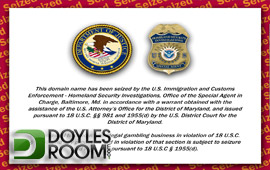 The Maple Gambling image gallery control requires that you have the Flash Player plugin installed and JavaScript enabled in your browser.
Just weeks after Black Friday, when the US Department of Justice seized the domain names of Poker Stars, Full Tilt Poker and Absolute Poker, the authorities have announced round number two of their clampdown.
A federal grand jury in Baltimore announced that it had seized the bank accounts and domain names of ten online poker rooms.
Indictments have been brought against two gambling businesses and three defendants and they have been charged with conducting an illegal gambling business, as well as money laundering.
In addition, eleven bank accounts have been seized in areas such as North Carolina, Panama, Portugal and the Netherlands.
Doyles Room among the Domains Seized
Perhaps the most high profile domain name to be seized is DoylesRoom.com, endorsed by the godfather of poker, Doyle Brunson. Several weeks ago, Brunson announced that he was distancing himself from the site until US authorities make changes to current laws.
The other nine online poker rooms involved in the indictments were as follows:
Bookmaker.com, 2Betsdi.com, Funtimebingo.com, Goldenarchcasino.com, Truepoker.com, Betmaker.come, Betgrandesports.com, Betehorse.com and Beted.com.
It was stated that anyone who tried to access these sites was immediately directed to a banner which announces that the domain names have been seized.
Undercover Investigation Leads to New Indictments
According to special agent William Winter from Homeland Security Investigations in Maryland: "These indictments are the direct result of impressive undercover investigative work by our agents, along with the close collaboration of our law enforcement partners here in Maryland."
He said the proceeds from illegal internet gambling are sometimes used to fuel organized crime and criminal activity."
"Laundering money from illegal activity such as illegal internet gambling is a crime," added IRS Special Agent, Rebecca A. Sparkman. "Regardless of how the money changes hands - via cash, check, wire transfers or credit cards - and regardless of where the money is stored - in a United States financial institution or an offshore bank - we will trace the funds."