Article published on 11 April 2012
BCLC Partners with Manitoba Lotteries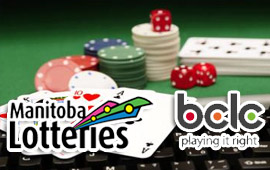 The Maple Gambling image gallery control requires that you have the Flash Player plugin installed and JavaScript enabled in your browser.
The Canadian province of Manitoba is joining British Columbia, Quebec, Ontario and the Atlantic Provinces by introducing online gambling to its citizens.
It was announced this week that Manitoba Lotteries is partnering with the British Columbia Lottery Corporation (BCLC) to launch its online gambling site by 2013.
The main objective of the venture is to offer players an alternative to the over 2,000 unregulated and what is deemed "illegal" sites where Manitobans spend more than $37 million every year.
Manitoba wants to direct some of those millions back into the province, and believes that the launch of an online gambling site, similar to BCLC's PlayNow.com, is the right way forward.
"The existing online gambling market is mostly unregulated, with over 2,000 grey market operators who offer few or no responsible gambling features and millions of dollars leave the province each year," said Minister Steve Ashton, whose department is responsible for Manitoba Lotteries.
"Manitobans will now be able to play on a site where they can have confidence in game integrity, personal information security and that offers a comprehensive set of responsible play tools, information and support," he said.
Online Casino Games and Poker in Manitoba
The new Manitoba online gambling site will initially incorporate online casino and poker games, however, it will also eventually include sports betting and online bingo.
By 2018, the new site should generate around $17 million, according to Manitoba Lotteries, with $1.5 million in its first year of operations alone.
Around 5% of the money will be directed to responsible gambling programs and the Addictions Foundation of Manitoba.
BCLC to Benefit from Manitoba Online Gambling
The BCLC's involvement in the new project should also generate revenue for the lottery group.
According to the President and CEO of BCLC, Michael Graydon, "innovation is key to growth in any business."
"We are creating a new revenue stream for BCLC by leveraging our experience and the expertise of our best in class vendors and providing these services to another jurisdiction," he said, speaking about BCLC partnering with Manitoba Lotteries.
Manitoba's new online gambling site will use the multiple software systems employed by BCLC for its own platform, including online gambling and betting software by OpenBet, and online poker software by GTech G2.
The CEO of OpenBet, David Loveday, said that the announcement by Manitoba Lotteries further strengthens the group's position as the platform of choice in Canadian provinces.