Article published on 23 April 2012
Most Citizens Support a New Toronto Casino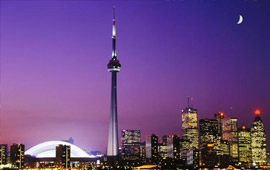 The Maple Gambling image gallery control requires that you have the Flash Player plugin installed and JavaScript enabled in your browser.
Since the Ontario Lottery and Gaming Corporation announced that it was mulling with the idea of building a new casino in Downtown Toronto, proponents and opponents alike have been very vocal in their opinions.
Now, a new Ipsos-Reid poll, commissioned by the Canadian Gaming Association, has managed to make some order in the chaos and released statistics regarding support for the idea.
Of the 810 people living in Toronto polled, a marginal majority support the idea of constructing a new casino - with 54% believing that it would have a positive impact on the city.
47% of those polled said that they thought a casino would negatively impact the city.
The Ipsos-Reid poll gave participants a number of reasons why they would support a new casino, ranging from economic reasons to entertainment reasons.
Interestingly, the majority of those citizens who support a Toronto casino did so because they believe the economy would benefit from the boost of a new tourist attraction.
"Supporters of a casino say the main reasons they are on board are because it would be good for the economy (63%), tourism (27%), more jobs (24%), that it would be a more convenient location than going afar (15%) and that it is good entertainment and fun," noted the poll.
Ontario Place Popular Choice for Toronto Casino
The Ipsos-Reid poll also asked the participants where they would like to see the new casino located, and Ontario Place is the most popular among all options given.
Half of the city dwellers (51%) said that Ontario Place would be the perfect new location, despite the fact that city councillor, Mike Layton moved to propose a motion banning a casino from being built there.
37% said that they would more readily support a casino if it formed part of a larger entertainment complex. This is good news for groups such as MGM Resorts International, which have already proposed to construct a mega-complex and gambling facility.
Of those polled, 60% said that they worried about a rise in criminal activity in Toronto as a result of a new casino.
The results of the Ipsos-Reid poll contradict another which was carried out by Forum only days before the results were published, showing that 52% disapproved of a casino, while 37% approved and the rest remained undecided.