Article published on 20 April 2012
NHL Playoffs - Vancouver Canucks Avoid Elimination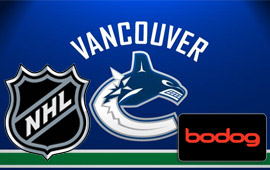 The Maple Gambling image gallery control requires that you have the Flash Player plugin installed and JavaScript enabled in your browser.
Just when it looked as though the Vancouver Canucks were headed for a thumping in the NHL Playoffs, they surprised pretty much everyone by beating the Los Angeles Kings in Game 4, giving NHL betting fans renewed hope in the team.
Their Game 4 victory saved the Canucks from elimination, reducing their deficit against the Kings to 3-1 in their best-of-seven Western Conference quarter-final series. So the big NHL betting question is whether the team from Vancouver can use their momentum and confidence from this week's win to make it 3-2 on Sunday in Game 5?
The Kings Won the First 3 Games of the Series
The Vancouver Canucks have not had a smooth postseason. Despite coming into the postseason as the favorites to emerge from their conference, they have failed to play up to their usually high standards, proceeding to lose their first three games against the Kings, risking a whitewash.
However, Canucks head coach Alain Vigneault must have said something to the team, because instead of succumbing to Los Angeles on Wednesday, they dug deep to pull out a much-needed victory. Interestingly, Vigneault benched veteran goalie Roberto Luongo for the second straight game in lieu of Cory Schneider, who made an impressive 43 saves on the night.
In the past two games Schneider has let in just two goals, giving him a 1.02 goals-against average and .969 save percentage. Luongo, meanwhile, has allowed seven goals in two games for a 3.59 goals-against average and .891 save percentage.
The Canucks Do Not Have an Easy Task Ahead
But while Vancouver have managed to pull themselves back from the brink of disaster, their task ahead will not be an easy one. Consider that in the last 70 years only three NHL teams have ever overcome a 3-0 series deficit to win - the Toronto Maple Leafs in 1942, the New York Islanders in 1975 and the Philadelphia Flyers in 2010.
What the Canucks do have going for them over and above to top-rated goalkeepers in Luongo and Schneider is superstar Daniel Sedin, who hadn't played a game since late March, but has come back with a vengeance in this series. He notched up an assist on Wednesday and reinvigorated the team's power play, showing himself to be a big asset to the team.
From a Vancouver Canucks betting perspective, the Canucks have been posted as the favourites in Game 5 at most online bookmakers including Bodog. But even with the home advantage, they will have their work cut out for them on Sunday.
Vancouver Canucks vs Los Angeles Kings Odds at Bodog
| | | | |
| --- | --- | --- | --- |
| | Home | Draw | Away |
| Vancouver Canucks vs Los Angeles Kings | 7/8 | 10/3 | 5/2 |