Article published on 13 June 2014
Great Promotions at Casino.com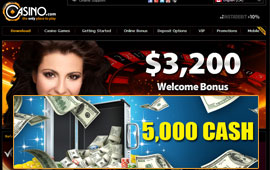 The Maple Gambling image gallery control requires that you have the Flash Player plugin installed and JavaScript enabled in your browser.
With the world focused on the 2014 FIFA World Cup soccer tournament, many online casinos are offering a number of soccer promotions. Casino.com is one of the online casinos that is offering soccer promotions. Casino.com is offering not one, but two soccer promotions, the Golden Goals Promotion and the Bet Home or Away promotion. While many may be interested in playing only soccer promotions, Casino.com realises that not all its players wish to do so, and to that end, has made sure that there is also a special non-soccer promotion available this month.
For those who are soccer fans, and for those who are not, players at Casino.com can join in with The Big Cash Out prize draw promotion from now until Tuesday, July 8th. Players can pick and choose and really enjoy great promotions at Casino.com this month!
The Big Cash Out Promotion at Casino.com
The Big Cash Out promotion at Casino.com is an exciting prize draw promotion that is easy to enter. The promotion began just a few days ago and runs through the first week of July, giving players at the online casino plenty of time to get multiple entries into the prize draw. The Big Cash Out has a single prize available in which the winner of the prize draw will receive a cash prize of $5,000. Many casino prizes are awarded as bonuses, and players need to fulfill play through requirements before they can withdraw their winnings. This promotion, however, is a straight cash prize that players can use for whatever they like, such as an incredible vacation to an exotic destination.
Players who wish to make sure that they receive their entries into the prize draw need to make sure to opt in to the promotion. After they have opted in, all deposits of $50 or more will give one entry into the prize draw. Players who would like to get multiple prize draw entries can do so by depositing more funds at Casino.com. A player who would like three entries into the prize draw can deposit $150 in order to receive three entries.
Who Can Enter The Big Cash Out?
This promotion is open to all players at Casino.com. Even new players may enter the promotion. When a new players opts in to the promotion, and makes the appropriate deposit, they will receive both their prize draw ticket and the Welcome Bonus. The Playtech powered Casino.com offers new players a Welcome Bonus of $3,200.