Article published on 10 July 2014
Bonus Promotion at Jackpot Capital Casino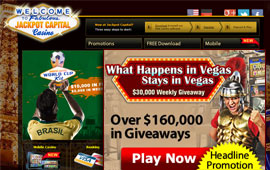 The Maple Gambling image gallery control requires that you have the Flash Player plugin installed and JavaScript enabled in your browser.
Players who are looking for a great casino bonus promotion should join the What Happens in Vegas promotion. The What Happens in Vegas bonus promotion at Jackpot Capital Casino is certainly one that is not to be missed. There is a whopping $162,500 that will be given away as casino bonuses this month.
What Happens in Vegas Bonus Promotion
Jackpot Capital Casino's bonus giveaway is offering $30,000 in bonuses each week of this promotion. The promotion is taking place until July 21st, and on July 22nd, there are additional bonus prizes that will be awarded. The bonuses are given out each Monday of the promotion, and it is possible for players to have won up to $800 if they are within the top ranking players on the scoreboard.
There are four stations in the What Happens in Vegas Stays in Vegas casino promotion. In addition to the $30,000 in weekly bonuses, players can also progress through the four stations. When the promotion is over, players who reached the various stations, based on the number of points that they accumulated, stand the chance for additional prizes.
On July 22nd, an additional three players that have reached Station 4 will be awarded with an additional prize, a $500 cash prize. 10 players that have reached Station 3 will each receive a $300 casino bonus, and 20 players that have reached Station 2 will each receive a $200 casino bonus. 35 players that have reached Station 1 will each get a $100 casino bonus.
This bonus promotion is a promotion that is good for everyone. Both those players who are occasional players and those who are more frequent players will find that they can qualify for the weekly bonuses. When playing any of the games at Jackpot Capital Casino, players will accumulate points that are added together and used for their scoreboard total. Those players that play on their mobile devices will earn double points.
Comments on the Bonus Promotion
Oliver Smith, the Jackpot Capital Casino Manager, said: "Mobile players earn double points. So if you want to accumulate points even faster, play on your iPhone, iPad, or Android phone or tablet!"
Being a promotion that can have winners at all levels, players across the board are excited to be taking part. One player said the following: "It's pretty exciting when just a few more points can bump you up to a higher level. The higher you go, the bigger the prizes, and since not so many players reach the top level you have a much better chance in the random draws."
Jackpot Capital Casino is operated on Realtime Gaming casino software. Players can choose to play using the download or Flash Casino versions or via their mobile devices.