Article published on 29 September 2014
Huge Jackpot Wins at Playtech Casinos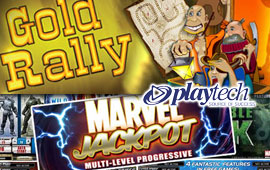 The Maple Gambling image gallery control requires that you have the Flash Player plugin installed and JavaScript enabled in your browser.
Online and mobile casino players all hope that they will get the chance to win one of the large jackpots sooner or later. At Playtech-powered online casinos, these dreams have become reality for some lucky players. There have been two huge jackpot wins at Playtech casinos on a single weekend. Both these jackpots have been hit for over one million dollars.
Two New Playtech Millionaires
The first Playtech jackpot to have been hit for over a million this weekend was the Gold Rally progressive slot jackpot. The jackpot was hit at a whopping $1,339,804. The largest ever win on this progressive slot jackpot was recorded at over $6 million.
The Gold Rally progressive jackpot slot game is not one of the most advanced or exciting slot games from the Playtech software provider, however, it is popular and played by many simply because it pays out big and it pays out often. The slot is a 3-reel slot game with eight paylines. The game has nine different symbols, and players will be on the lookout for the three Gold Rally symbols for the largest line win in the game.
The other large jackpot win that took place on the same day was also for over a million dollars, with the Ultimate Power Marvel progressive jackpot being hit at $1,011,836.
The Marvel Ultimate Power jackpot is a jackpot that can be won while playing any of the Marvel games, such as Fantastic Four, X-men, Blade, Elektra, Iron Man, Incredible Hulk, and Daredevil. The bonus game that lead to the potential jackpot payout is randomly triggered, and players also stand the chance of winning some smaller jackpots such as the Super Power Jackpot, and the Extra Power Jackpot.
In addition to these two jackpots for over a million dollars, there was another Playtech hit on Everybody's Jackpot slot game. This jackpot was hit on Sunday morning, for $255,324, and even though the prize may not reach to over a million, it is still a big slot prize to win. The winner of this jackpot will receive 70% of the total, while the other 30% is split amongst all those who played this jackpot slot game within the 24 hours before it was hit.
About Playtech
Playtech was founded in 1999, and has been offering online gaming and betting software, and other gaming solutions since that time. The company offers casino software, live casino software, a poker network, sports betting platforms, and more.